Why timber flooring popularity is increasing?
Nothing beats the beauty of a natural product. Timber flooring has a timeless appeal due to the natural appearance, warmth and beauty that timber brings to a space.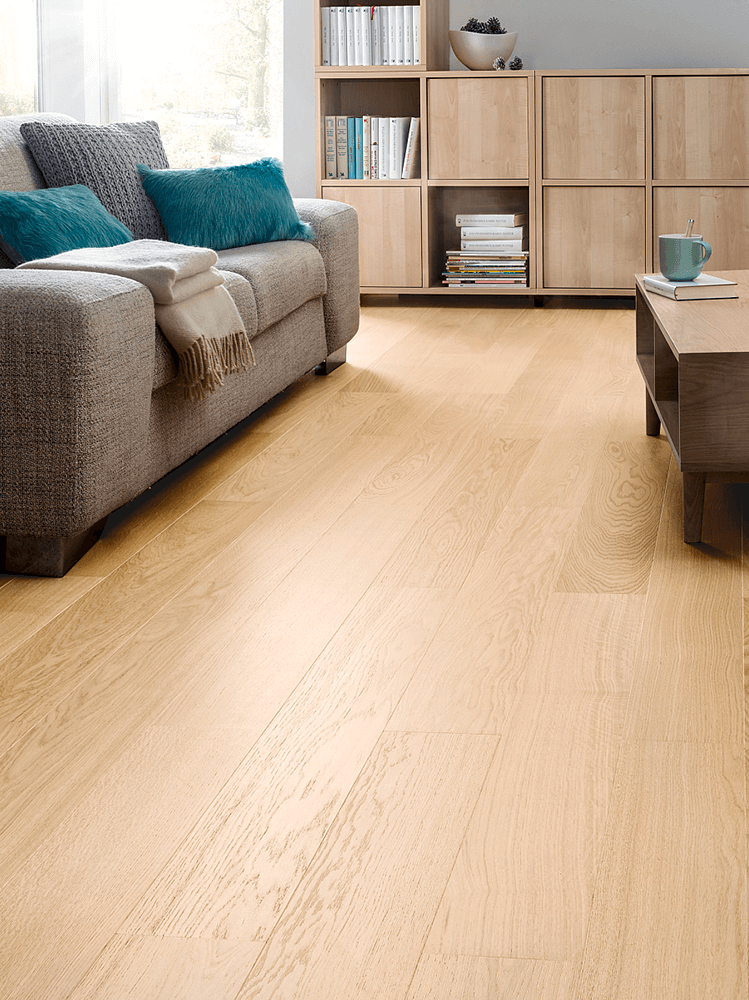 How do you choose the timber flooring style
This is where personal taste comes first. Timber flooring comes in a variety of finishes and looks ranging from the very neat to the rawer and more rustic look in appearance.
Surface effects also impact the appearance, examples include lacquering, brushing or adding saw or indentation marks, to add character and contrast to your wood flooring. Examples include:
Lacquer:

is a semi-gloss lacquer is applied in multiple layers to make the floor extra hard-wearing.

Oil:

provides a silky matte surface, reinforcing the feeling of the wood. The oil penetrates into the wood while the hardwax remains on the surface and provides extra wear protection. Like all other oiled wooden floors, it must be 'maintenance-oiled' every two or three years.

Brushed:

slight brushing to polish the wood pattern and bring out the contrast between the fibres, without going too deep.
The size of the space also is detrimental to the choice of style. For smaller spaces its better to opt for a narrower and shorter board. For larger spaces longer and wider boards bring out the volume and generosity of the space and the boards come more into their own.
Another key decision is the orientation of the boards. The longer side should be installed along the length of the room to make the room appear even longer.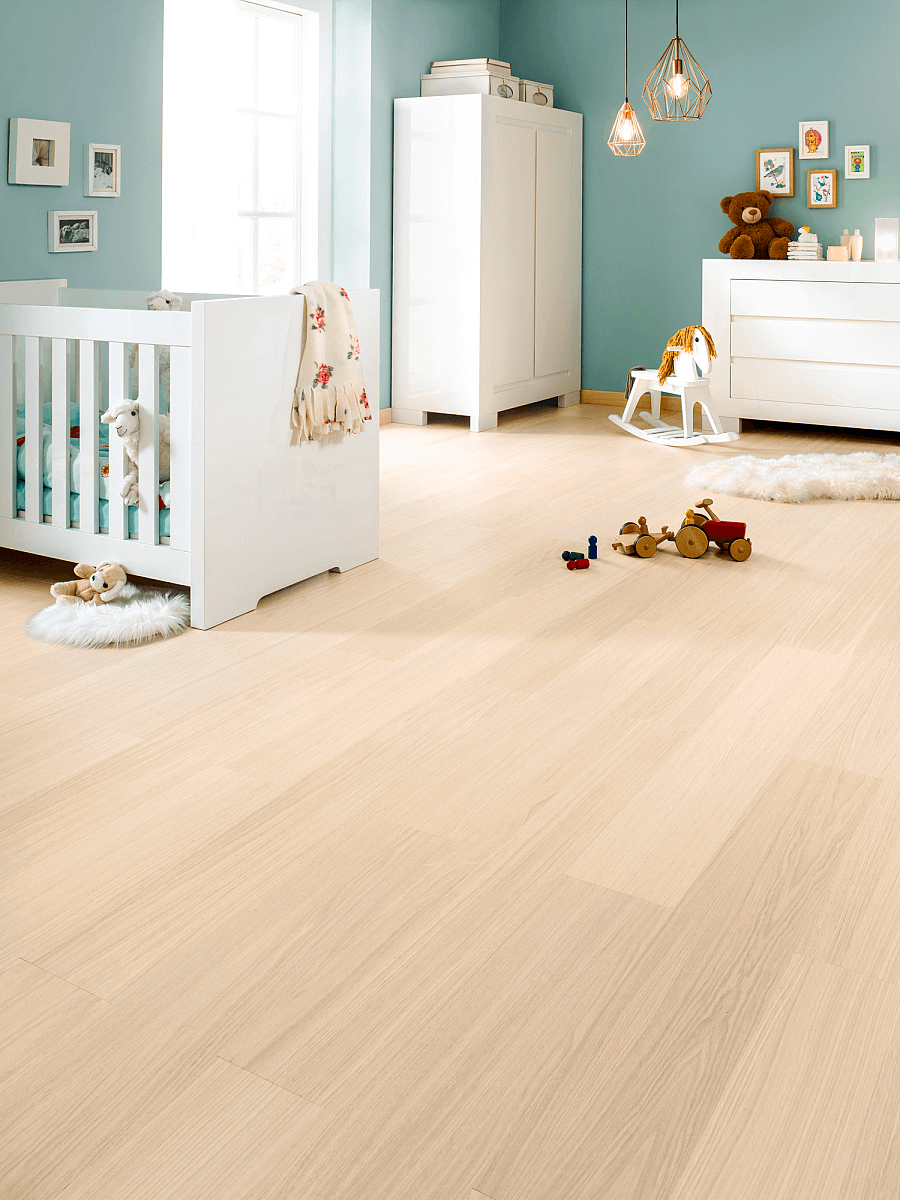 What is engineered timber?
A solid timber board consists of one layer of solid timber. An engineered timber board cosists of more than one layer, typically an overlay and a backing or core to provide increased stability (for expansion and contraction) and increase affordability. The appearance of both typologies is the same.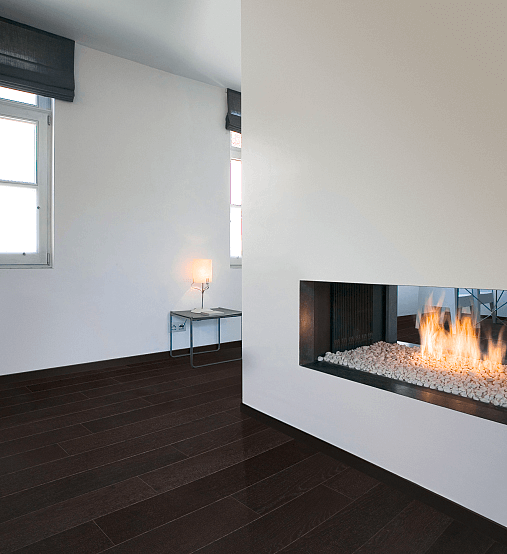 What cores are available for engineered timber?
HDF (or High Density Fiberboard): consists of wood chips pressed together under high pressure. This produces a remarkably good quality panel that is extremely resistant against heavy loading. The intense compression also removes any possible tension from the wood. The strong and hard core makes HDF an excellent base for parquet floors.
PLYWOOD: Thin layers of birch wood are bonded to each other crosswise with waterproof adhesive to form a strong core with optimal properties.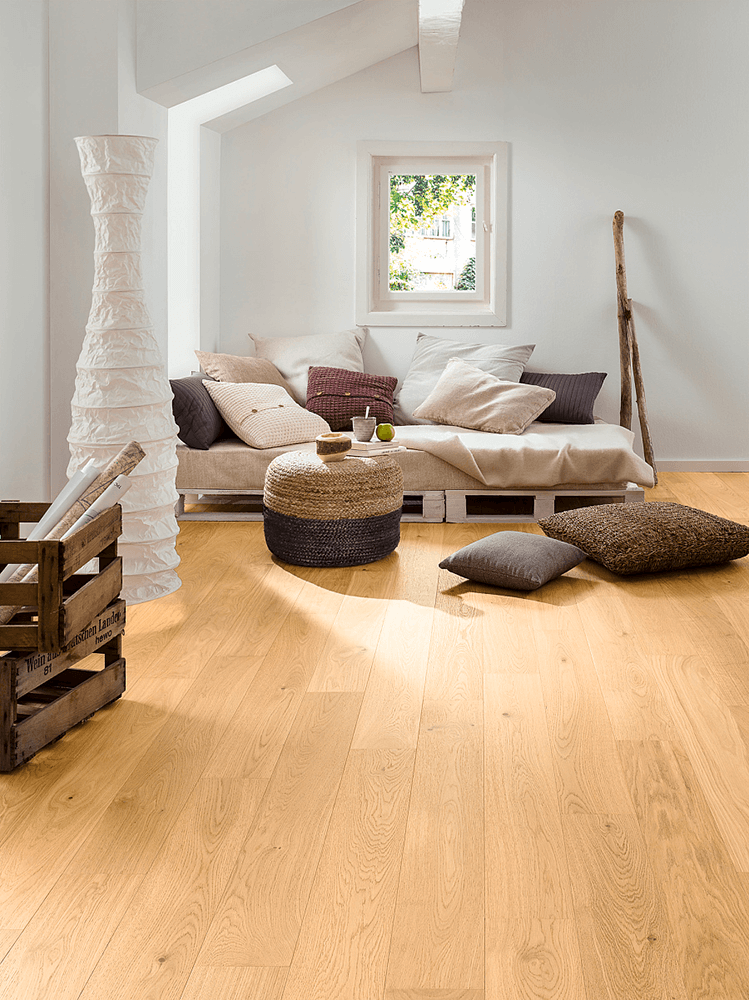 What is the difference between engineered timber flooring and laminate?
Engineered timber is real timber on a backing layer, typically either plywood or HDF. Laminate flooring mimics real timber by using a printed layer under a protective layer over an HDF core. The key advantages of engineered timber is that it is a real, natural product, has a superior appearance and has more variations in appearance making it sleeker and more luxurious in feel.
What are currently the most popular wood species?
The most popular species of wood are oak and walnut.
Oak has excellent wood working properties and is widely used for interior decoration due to its appearance and performance. The structure of oak is well recognised as both modern and traditional. Different patterns are possible, ranging from calm to expressive. Oak matures and gets more golden over time.
Walnut also has excellent wood working properties thanks to its softer characteristics. Its colour varies from light brown to a warm, dark-chocolate tone. Walnut brings a strong character to the floor. Walnut gets become reddish over time.